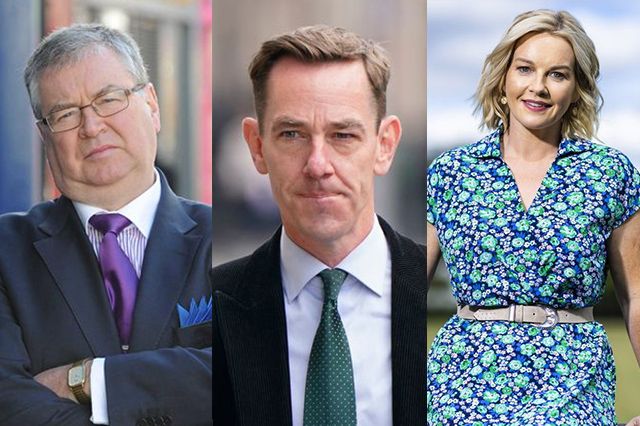 A review of RTÉ's financial records by auditors Grant Thornton has established all pay figures for RTÉ's highest paid stars "have been correctly stated publicly and properly accounted" for by the broadcaster between 2010 and 2022.
This includes payments to the late Gerry Ryan and sports presenter Eamon Dunphy, along with well known current and past broadcasting stars such as Marian Finucane, Sean O'Rourke, Pat Kenny and Claire Byrne, Miriam O'Callaghan, Brian Dobson and George Hamilton.
It comes as RTÉ bosses are facing increasing anger in Government with the ongoing delay in an investigation into the mystery still surrounding some payments to Mr Tubridy.
The national broadcaster accused Mr Tubridy of getting a secret payment of €120,000 on top of the €225,000 from the infamous Renault deal.
The issue has taken on increased urgency after the presenter convincingly showed he did not receive "one cent" of this €120,000 between 2017 and 2019.
TDs will tomorrow demand RTÉ produce its "internal review" into these alleged payments as soon as possible
Coalition sources say the fresh report by accountants Grant Thornton was supposed to be imminent and "don't understand why it is so complicated".
When RTÉ chiefs appear at the Dáil Public Accounts Committee (PAC) tomorrow, they will be told to publish the internal report that prompted this investigation.
Fine Gael TD Alan Dillon says the original review must be released to the committee.
"We are still waiting for the 2017-19 Grant Thornton review. RTÉ have had since last March to get their house in order on this.
"It is imperative that RTÉ furnish the Public Accounts Committee with the 17-'19 internal review immediately. How much more time do they need?
"They are in before the committee tomorrow Thursday and all documents should be furnished beforehand or we are looking at further delays and future meetings to get to the bottom of what occurred."
A report sent to the PAC showed auditors Grant Thornton said RTÉ could not provide all documentation between 2008 and 2009 but said it is not unusual for companies to struggle to present all relevant files from 15 years earlier.
Auditor Paul Jacob also said he found one employee's pay was overstated by €1,359 but this was explained due to unpaid annual leave.
"In my view, the difference of €1,359 is not significant, particularly relative to the total published remuneration figures of the Top Ten Earners, and has no impact on the rankings of the Top Ten Earners, no further work was carried out in this regard," he said.
Meanwhile RTÉ new Director General Kevin Bakhurst will tell the PAC tomorrow that RTÉ should not be "brokering or facilitating" commercial arrangements with its contracted workers.
In his opening statement to be delivered to the PAC, Mr Bakhurst will call the payments scandal "one of the most shameful and damaging episodes in the organisation's history".
He will say that some things are "beyond dispute" and this includes RTÉ's role in commercial arrangements.
"RTÉ should not be brokering or facilitating commercial arrangements with its contractors. The level of fees in contracts of this nature are too high," he will tell politicians.
He will say that negotiations with agents have "highlighted gaps in our processes and procedures". This has caused "considerable harm".
He will say "all significant decisions" will now be agreed by the interim leadership team. "A record of discussions leading to these decisions will be compiled," he will tell politicians.
"We should have operated with greater transparency, and should have applied much higher standards of honesty and integrity in terms of its public statements.
"The public were misled, as were you as public representatives. That is completely unacceptable."
Chair of the RTÉ Board, Siún Ní Raghallaigh, will tell the PAC that the "core purpose" of RTÉ making a statement on June 22, at the beginning of the scandal, was to "share facts with the public".
This is despite Ryan Tubridy strongly criticising the statement made on that day and how neither he nor his agent Noel Kelly were consulted beforehand.
She will also praise the new DG and say that in his first few days he is "steadying the ship of RTÉ by taking swift action on a range of important matters".